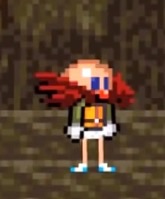 Eggman's Son is a character who only appeared in Things Get Messy; he made a only a short appearance when Earthworm Jim, Tails, and Doctor Eggman had to go to Chrono's garage filled with time machines and Eggman says that he is one ugly little kid.
Trivia
Ad blocker interference detected!
Wikia is a free-to-use site that makes money from advertising. We have a modified experience for viewers using ad blockers

Wikia is not accessible if you've made further modifications. Remove the custom ad blocker rule(s) and the page will load as expected.