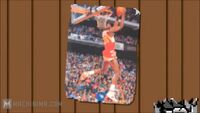 Sonic's poster is a recurring item in Sonic For Hire. Sonic uses an old poster of Dominique Wilkins as a substitute for a TV in his house in Paperboy Sonic later, uses his leftover money to buy a new frame for his poster in Punch Drunk Sonic later steals Earthworm Jim's TV and the poster is not seen again until "Excitebike" (Sonic gave back the TV before being turned into an eggplant).
Sonic's poster gets destroyed by Mario and his group of various villains in The Battle: Part 01 After Sonic becomes the new crime boss, he replaces his poster with the real Dominique Wilkins frozen in carbonite in The Battle: Part 02
When Darth Vader appears, he releases Dominique and the hoopster ends up being blind in The War: Part One. After that, Dominique saves Sonic's life be killing Darth Vader in The War: Part Two.
The real Dominique wandered of, and where he is not yet known. Sonic ended up losing the mob and replacing the old poster with a Gerald Wilkins poster in It's On
In Chrono Trigger, in the beginning Tails and Sonic watch the Jarred Wilkins poster before he puts up the Mase poster.
Gallery